NapaJen Pharma is a clinical-stage, biopharmaceutical company leveraging its proprietary immune cell-targeted oligonucleotide delivery technology to develop novel therapeutics.
While nucleic acid-based drugs have demonstrated significant therapeutic potential, their efficient and targeted delivery has presented key challenges to drug developers. This is largely due to the high instability, low bioavailability and poor cellular uptake associated with oligonucleotides. NapaJen Pharma has developed a novel solution designed to overcome these delivery challenges. Our proprietary approach creates oligonucleotide therapeutics that bind directly to Dectin-1, a cell surface receptor expressed on antigen-presenting immune cells such as dendric cells or macrophages.
Furthermore, by leveraging our unique in-house platform technology, we can significantly reduce the time required for the identification of novel nucleic acid drug candidates.
Based on this unique delivery technology, NapaJen Pharma is enabling the development of its own internal drug candidates, as well as positioning itself as a partner-of-choice for biotechnology and pharmaceutical companies seeking to develop their own novel oligonucleotide therapeutics.
True Precision Medicine Meets Precision Delivery
By loading different oligo drugs onto its cell-specific drug delivery platform, NapaJen has made both
"precision-targeted immunosuppressive treatment" as well as "controlled immuno-stimulation" possible in preclinical models.
Partnership
NapaJen Pharma's oligonucleotide delivery platform provides broad opportunities to companies seeking solutions
for development of oligonucleotide therapeutics. These include:
Collaboration to create new oligonucleotide therapeutics addressing target genes identified by partner companies
Application of NapaJen Pharma's nucleic acid delivery technology to oligonucleotide drug candidates being developed by partner companies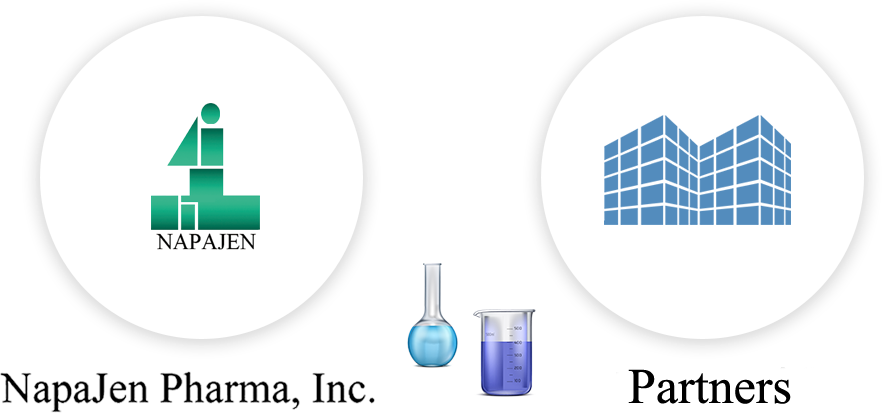 NEWS
(日本語) 2022年1月に株式会社 Immunohelixを設立いたしました。

Our website was renewed !

Kenji Arima became a Director NapaJen Pharma, Inc.

Kenji Arima became President at NapaJen Pharma Co., Ltd.

Kenji Arima became CEO of NapaJen Pharma, Inc.
過去のニュース一覧
News Archive
NapaJen Pharma, Inc.
1201 3rd Avenue, #2200,
Seattle, WA 98101, USA
email: info@napajen.com
Immunohelix Co., Ltd.
DT 105, 2-24-16 Nakacho, Koganei,
Tokyo 184-0012 Japan
Tel     : +81-42-388-7757
email : info@immunohelixbio.com